Do you spot those aromatic pumpkin spiced lattes and hot cocoa topped with fluffy marshmallows around you? Or, the sweet-smelling candles that make you all warm and snug? And everything looks like it's been shot in a sepia tone? Well, that is autumn for you. Time to pack up your swimsuits and flowery dresses as the sweater weather has finally hit. You can say goodbye to sweat and humidity and also recover from the skin damage caused during the sun-kissed summery months. But like that wardrobe switch, it is also time to update your skincare routine and prepare for the harsh winters. Oily skin may no longer give you any trouble in fall, but a drop in moisture from the air makes it dry and leaves you with itching and flaky skin. Plus, we spend more time indoors with the central heating on that makes our skin more parched.
The wonders of light masks, creams and gels must've worked for us in summers, but now we need some extra care to keep our skin hydrated and nourished. 
CLEANSING DOESN'T STOP
The one recurring issue that will continue to haunt your skin till new flower buds start sprouting on trees and you hear the birds actively chirp is dryness and its related skin issues. Humidity plummets and dehydrates your skin leaving it flaky with cracks and that may also lead to eczema. Your ideal skincare schedule must always include cleansing using a cream or an oil-based cleanser instead of a gel one which is more popular in the hotter season. Less the lather it'll produce, the better your skin would feel. Another important factor to take note of is the water temperature. The colder it gets, the hotter water we use for showering or cleansing. This is a big no because it would dry out your skin more. It is always advised to used lukewarm water.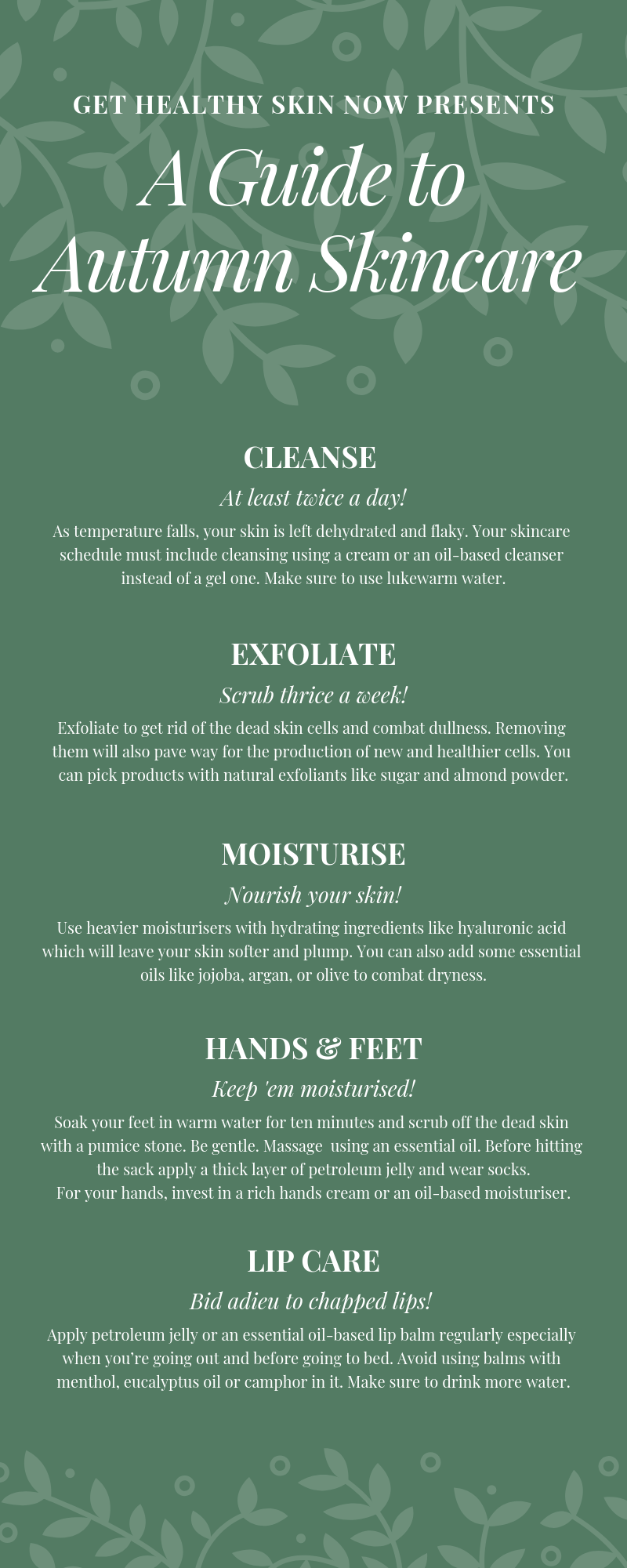 EXFOLIATING DOESN'T STOP EITHER!
Exfoliation sounds easy and necessary during summers, but we want to stay away from anything that would dehydrate our skin even more. But exfoliation is not to be skipped if we want to get rid of the dead skin cells and combat dullness. Removing the dead skin cells, also from other parts of your body, will pave way for the production of new and healthier ones. You may exfoliate twice a week and you're skin will also absorb moisturisers, serums or oils better. You may pick products with natural exfoliants like sugar, almond powder or oatmeal.
MOISTURISE, MOISTURISE, MOISTURISE!
Always moisturise. Period. Especially after exfoliation. We rely on light, SPF and gel-based moisturising creams in summers to combat oily skin and also hydrate. It doesn't matter if your skin is dry or oily because the cool and dry air will take its toll. You need to use heavier moisturisers with hydrating ingredients like hyaluronic acid which leaves your skin softer, plump and helps reduce fine lines. You may also want to introduce some essential oils for your skin's well-being. Jojoba, olive, argan and avocado oils are excellent to combat dry skin. Coconut oil is a great antifungal and antibacterial moisturiser but if you suffer from oily skin then you can add a few drops into your cream and apply. Also, do not forget the sunscreen. The sun might no longer make a regular appearance in your neighbourhood, but there are UVA rays that can age our skin. 
DON'T IGNORE YOUR HANDS AND FEET
Your hands and feet have fewer oil-producing glands compared to the rest of your body so they are more prone to dryness. Your feet may be snug in a fuzzy pair of socks but your heels can still crack and even bleed. Make sure to soak them in warm water for at least 10 minutes and gently scrub the dead skin off using a pumice stone or a metal foot scrubber. Again, remember not to scrub hard. Moisturise using olive oil or any body lotion that you use. Before hitting the sack, apply a generous amount of petroleum jelly and wear your socks to lock in the moisture.
Our hands perform mechanical tasks throughout the day and are often washed with soap or come in contact with washing detergent. It is good to invest in a rich hand cream or oil-based moisturiser that will keep them soft. You can also massage your hands using cold creams but make sure to stay away from hand sanitisers that have high alcohol content. Keep them covered when you step outside.
DID WE MENTION LIPS?
It is difficult to escape chapped and bleeding lips when the biting cold wind blows. Caring for your lips is simple. You need to apply a petroleum jelly or essential oil based lip balm regularly especially when you're going out and before going to bed. Your lips might be flaky so avoid peeling the dry skin off and avoid eating spicy food which might further irritate the skin further. Avoid using balms with menthol, eucalyptus oil or camphor in it and make sure to drink more water to keep your overall skin hydrated.  
Winter is coming and it will wreak havoc on your skin if you don't start prepping now. Minor tweaks in your routine and you're skin will continue to glow. Fill your diet with foods rich in Vitamin C like gooseberries, kale, broccoli, etc. and Vitamin A like salmon, sweet potato, red bell peppers, etc. for excellent skin and remember to regularly sip some water. Another tip to keep in mind is to schedule a visit with your dermatologist for some healthy skin consultation and an annual examination to figure out how your skin is feeling.